Kinaara are a Leeds trio exploring the connections between the music of Punjab and the West. Brought together by singer Satnam Galsian in 2018 they aim to achieve an identity that reflects both her Punjabi heritage and their UK upbringing as a whole. They began with the folk songs of Surinder Kaur and the popular songs of Noor Jehan which they infuse with John Hogg's electric guitar textures and the jazz inflections of drummer Simon Henry. The next stage was to bring in the songs from the West, songs of hope and betrayal, and plug them in. Pentangle, Elvin Jones and even The Velvet Underground have been said to be felt in the sound. Kinaara's first single, the Punjabi folk song Lang Aaja, is out on 19th March 2021 with an EP set to follow in April.
"One of the best kept secrets of the festival programme was Satnam Galsian....hypnotic Punjabi folk songs..."
Songlines
"Hogg's guitar work is outstanding, complimenting the vocals beautifully..."
ACED magazine
Lang Aaja, Kinaara's debut single is out now on Bandcamp.
Satnam Galsian
Singer
Satnam Galsian is a British-Asian vocalist. Since receiving her Indian classical music degree from Birmingham Conservatoire she has been working with a range of artists creatively exploring the interplay between North Indian and Western music traditions. Her vocals have graced tours with Sonia Sabri Company, drum and bass tracks and a play for Radio 4. Satnam would include Noor Jehan, Surinder Kaur and Sheila Chandra among her influences. She is interested in promoting health and wellbeing through music. Likes herbal tea.
John Hogg
Guitar
John Hogg was beguiled by the electric guitar when he saw his cousin play Christmas carols on a Gibson one night. At Leeds College of Music he studied jazz and then North Indian classical music (also on the latter course was Satnam Galsian). Inspired, he became immersed in Indian music. But, missing the loud sounds of rock 'n' roll, he switched to epic indie blues folk pop funk rap! Always looking for a creative niche. In between he would teach and compose. He is inspired by Bert Jansch, Shahid Parvez, BB. King, Steve Reich, Duke Ellington, Siouxsie Sioux, Eno and fruit cake.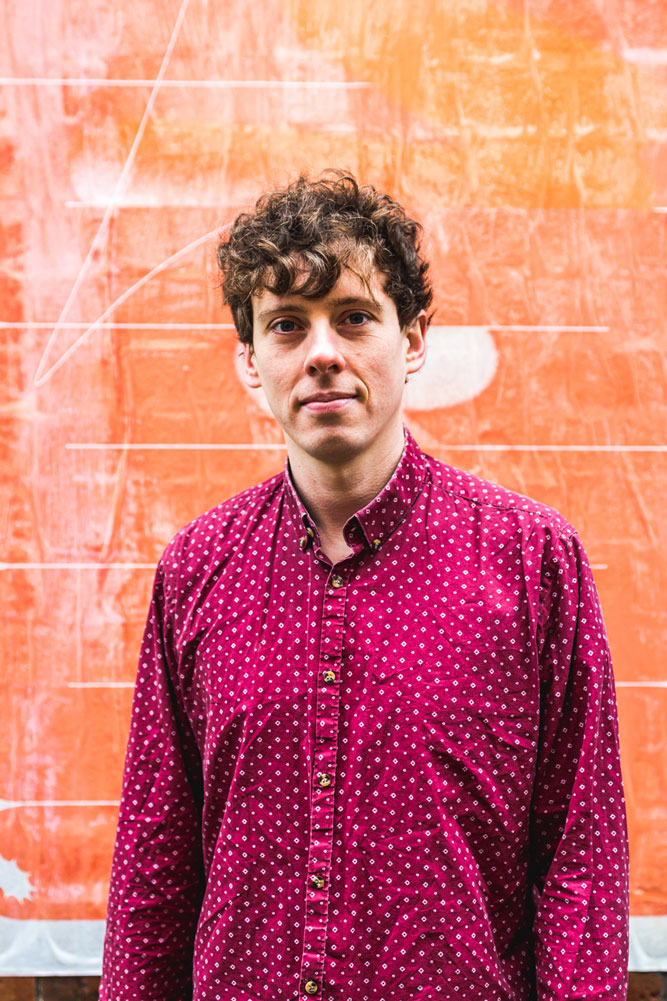 Simon Henry
Drums
Simon Henry holds a BA in jazz studies from Leeds Conservatoire and was awarded a full scholarship to complete his MA in jazz. He regularly takes trips to New York to study with influential jazz drummers and he has performed with many of the North's top jazz musicians. His is influenced by drummers Roy Haynes, Max Roach, Elvin Jones and Ed Blackwell. Likes bacon and soup.